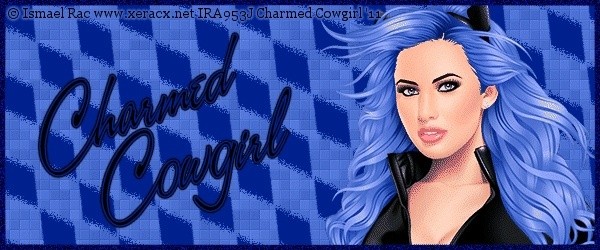 This tut was wrote by me on June 28, 2011. This tut is 100% my idea and any resemblance to another tut is pure accident.
Supplies Needed:
Tube of Choice. I am using one by Ismael Rac. You can find his artwork
HERE!
Please do NOT use the same tube as me without a license to do so.
Muras Meister- Copies
Toadies- Blast 'Em
Xero- Fritillary
Ok lets get started.
Open a 600x250 canvas. Now pick  color from your tube. I'm using #002390 and # 4c6fd3. Now using your preset sape tool with a diamond shape and the darker color and line with set to 0 draw out a small diamond. Now convert to raster then go to effects/plugins/mura's meister/copies with these settings: Tiling (angle), line, tile, (blend mode), 1, 50, 59, -10, 300, 0, 100, 0, 100, 0, 30, 0. Now Duplicate this layer 3 times,
Click back on raster 1 and flood fill with the lighter color from your tube. Ok now go to effects.plugins/xero/fritillary with these settings 10,30,10,10.
Ok now open your tube then copy and paste as a new layer. Now position to your liking.
Click back on raster 2 then go to effects/plugins/toadies/blast 'em with these settings- difuse-10 Transparency 211
Now click on the 1st duplicate then repeat the plugin remember to change the difusion to 20. Repeat for the second duplicate and rememer to change the difusion to 30. Repeat on the 3rd duplicate and change the difusion to 40.
Add a new raster layer then go to selections/select all/borders with these settings- inside, anti-alias checked, border width 5. Now flood fill with your darker color. Selections/Select None. Now go to plugins/effects/dsb flux/ bright noise with these settings- intensity 50 direction Mix.
Ok now add your copyright information and apply a slight drop shadow or gradient glow.
Ok for those who do not want to animate add your name and save. You are done.
Ok now let's Animate!!
make sure your three duplicates are hidden. Now right click and copy merged. Now in animation shop right click and paste as a new layer. Back in psp close off the original diamond layer and unhide the 1st duplicate now copy merged. Back in animations shop right click on the 1st frame and go to paste then over to paste after current frame. Now repeat for your other two duplicates. You should now have a total of 4 frames. Go to edit/select all or hit ctrl A then go to animation/frame properties or hit alt enter and change the display time to 25.
Now when I do an animated tag I always save a blank so if someone wants one later or I make an offer all I have to do is add the name. If you don't want to save a blank  that is fine I just find it easier....
Anyway save your tag and you are done.