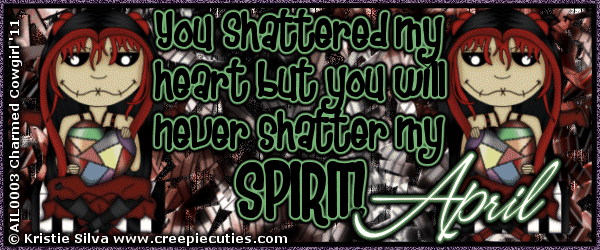 This tutorial was written by me on November 20, 2011 and any resemblance to another tutorial is strictly accidental. This tutorial also is written with a working knowledge of PSP.
Supplies Needed:
Tube of choice.. I'm using the awesome artwork of Kristie Silva. Please do NOT use the same tube as me without a proper license. You can purchase his artwork
HERE!
Animation Shop.
Plugins Needed-
DSB Flux- Bright Noise
Alien Skin Xenofex 2- Shatter
Xero- Fritillary
Words of choice… I'm using "  You shattered my heart but you will never shatter my spirit!" If this is a quote by someone I'm not sure… Just something I thought up.
Ok now let's get started….
Open a 600x250 canvas with a transparent background. Now choose 2 colors from your tube one dark and one light. Now change your background/fill properties to a foreground/background gradient with an angle of 45 and repeat of 3. Alright now lets flood fill our canvas with the gradient.
Now  go to effects/plugins/xero/fritillary with the following settings: Granularity-15, Aggression- 40, Tesselation- 40 and variation- 170 then hit OK. Let's duplicate this layer then go to adjust/blur/Gaussian blur with a radius of 4.00 and hit enter then change your blend mode to hard light. Alright now merge the 2 layers together and then duplicate again and repeat the Gaussian blur. Now change the opacity to 50% then merge again and duplicate one more time. On this duplicate you will need to go to effects/plugins/alien skin xenofex 2/Shatter  and use these settings: piece size(pixels)- 28.16, Thickness- 16, Tumble-56, Time-25, Shadow opacity- 80, shadow blur width(pixels)-5.76 and make sure the inside fill is set to make selection transparent.
Ok now duplicate your background layer twice for a total of 3 layers. Then close off the 2 duplicates then go to effects/plugins/dsb flux/bright noise with these settings: intensity:75 and direction: MIX
Then hit ok. Now on your 1st duplicate layer repeat the bright noise plugin and hit MIX twice. Repeat this step for your 2nd duplicate and hit MIX three times.
Alright now copy and paste your tube as a new layer resize and then position to your liking. I positioned mine on the right side of the tag and then went to image/mirror. Now grab your text tool and here's where we will add our wording. I'm using a font named Heartbreaker with a size of 30 for You shattered my heart but you will never shatter. On Spirit I changed the font size to 48. Now I broke all of my text down into different lines so it looks better. You shattered my is one layer, heart but you will is another layer, never shatter my is a 3rd layer and SPIRIT! is on a different layer.  Now go to effects/plugins/eye candy 4000/gradient glow with these settings: glow width(pixels)- 6.00, soft corners(%)- 25, overall opacity(%)- 100 and draw only outside selection is checked.. Now click on the color tab and use a different color from your tube.. Do not use one that was used in the background layers then click so it adds a new color tab 3 times… On the 3rd and 4th change the color to black.
Ok now your text layer should still be your active layer. Go to selections/select all then back to selections modify/select selection borders with these settings: inside border width 8 and anti-alias checked. Now add a new layer and flood fill this with the dark color you used earlier. Repeat this step except change the border width to 4. Don't forget to add a new layer then flood fill your selection with another color from your tube.
Ok now using your mover tool move the wording down if the borders overlap it. Now click back on the 2nd border layer and duplicate it twice for a total of three layers. Close off the 2 duplicates then go to effects/plugins/dsb flux and change the intensity to 65. Repeat this step for the 1st duplicate and hit mix twice. On the 2nd duplicate repeat the plugin again and hit mix three times.
OK now type out your credits. Make sure they are readable and propionate on your tag and apply a slight gradient glow.
Now for the AV repeat the steps above except don't add the shatter text. Also when you repeat the borders section change the width on the first one to 4 and the width on the second one will be 2.
Ok now its time to move both your av and tag to animation shop. On the av make sure all duplicate layers are closed off and only the original of each layer is open. Now right click and go to copy/copy merged and then in animation shop right click then paste as a new image. Back in psp close off the original border layer and original background layer and unhide the 1st duplicate of each of these then right click copy/copy merged. Now right click on your image in animation shop then go down to paste/paste after current frame. Back to psp close off the 1st duplicate of each layer then unhide the 2nd duplicate again right click copy/copy merged. Now right click on your image in animation shop then go down to paste/paste after current frame.
Repeat the steps above for your tag. And then save both your tag and your AV.
Thanks for trying my tutorial!